Instructors & their workshops
Olga Trifonova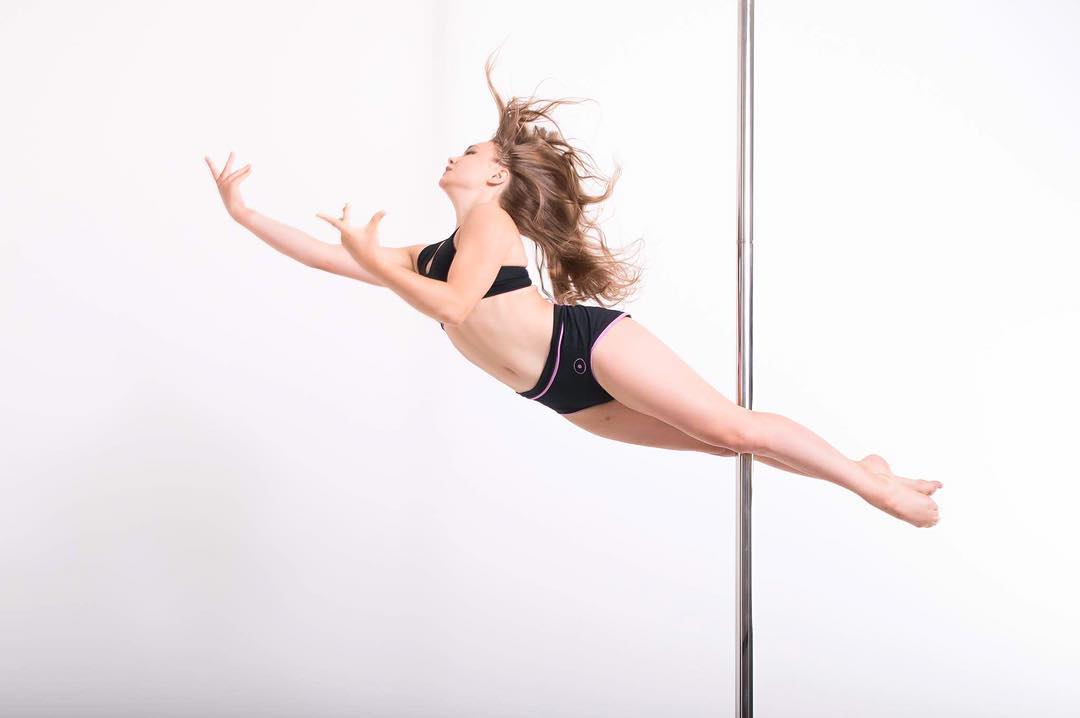 Olga is very young, but also very experienced in pole dance. When she stunned the pole world as a 12 years old little girl with her videos, shows and then also with her win in Russia's biggest TV talent show, nobody knew what would come after. Then she started to win competitions for adults...
She visited Mystique Pole Dance in Zurich just before her 14th birthday. We didn't know how she will be before, but she got us all already then. When she teaches pole, she's more mature than most much older pole dancers. Her knowledge is very wide, so when there is something, she doesn't know yet she has no problem to understand, reproduce and even develop the new thing. Seeing her like this already back then, we knew that we got to know the first real pole genius which appeared in this new discipline.
She's now 16, and we need to clear some prejudices that may slip through your head subconsciously when you hear her age and the age when she started (she started at the age of 8). Don't think about a poor kid, who was drilled against her will. Besides doing all these incredible things at the pole, she's a normal teenager. She's a fun person to be with and how playful she is, you also can see, when you check out her later performances. She uses her language pole dance to tell her stories and express her emotions. The other prejudice that could come up: can a teenager teach? Yes she can! We were speechless how structured she was already teaching two years ago. Not only how she explains. She can also cope with mixed-level classes and doesn't lose any students.
Olga Trifonova Workshops
Power Pole [A]

Signature combos and cascades. Work on the all height of the pole. Learning how to use the floor as well as the very top of the pole.
Strength tricks. Work on the interesting transitions into flags, Work with different grips. Signature transitions and tricks.

For Intermediate/Advanced level.
Fly & Balance : Static lesson [B]
This lesson will combine flying and spinning combos on static pole and handstands. You'll discover the techniques and different tips of Olga's flying style.
Dance Story [B] [C]
The lesson is based on one of the dance styles (each time a new story will be told through the dance). This class is built up of a small warm-up, stretching and then a full immersion in the dance with a mix of tricks, choreography and acting work.
You will learn a dance combination with a pole and work on a deep perception of the emotional side of dance and of the story. The main purpose of this class is the development of dance skills, sense of music and plasticity. Fr all levels.
more workshops to be added ...
-tbd-
Dimitry Politov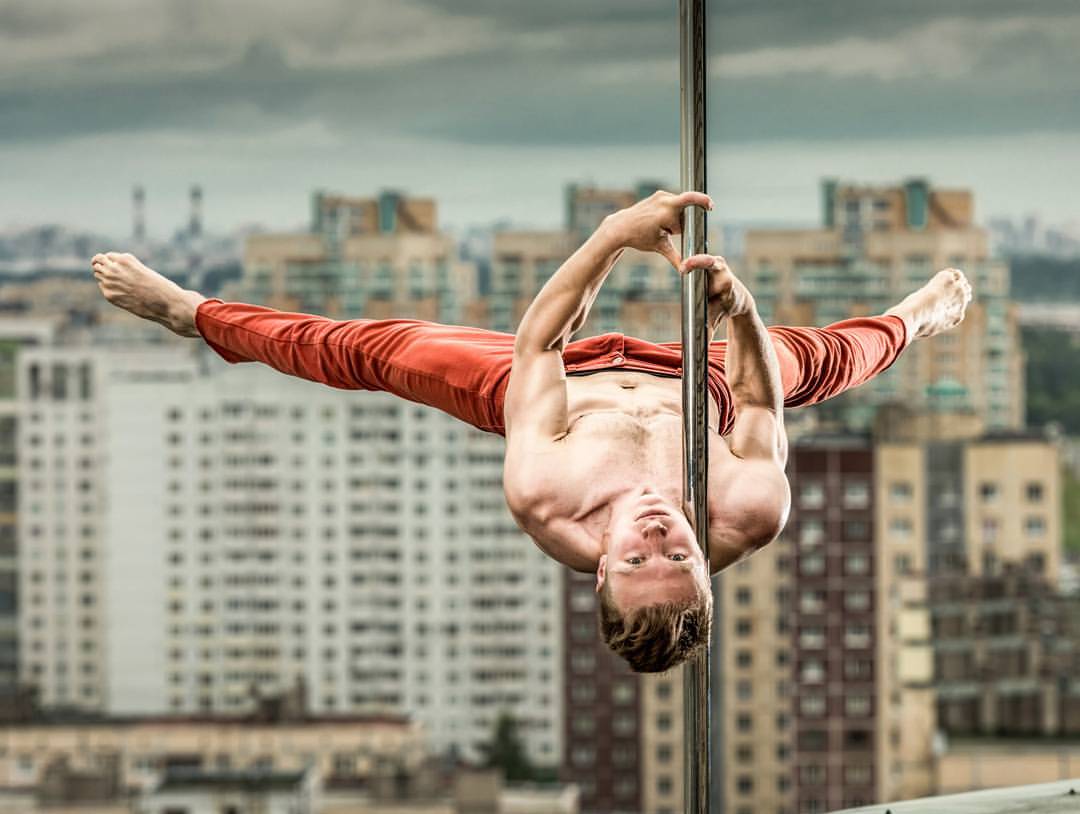 Dimitry Politov is one of a kind. It seems that he always finds a way to do something else than the others. And like this he is very influential to the pole world. I remember his first videos going viral. Execution was not yet that proper yet, but what he did was playful and totally different. And instead of making this a one-time story, he developed his pole skills. So he brought skills from break dance and parkour to pole dance and now it's something new. Meanwhile he won a lot of competitions and taught many workshops worldwide. Besides his solo acts, he was also very prolific and successful together with the great Pink Puma, another influential and valued pole dancer.
When he started to show all this crazy pole work, the next question was: how does he teach? Even though he never taught workshops at Mystique Pole Dance in Switzerland, he got us convinced very early. I remember hosting US instructors coming back from Pole Art Italy in 2015. It seems that all these great instructors joined the workshops after the competition as participants. Even though there were workshops by many big names of pole dance, the whole talk was about Dimitry's workshops: interesting, inspiring and a lot of fun. We are looking forward to his workshops.
Dimitry Politov Workshops
FlyingBuddhas [A]
New signature flips with step by step preparation techniques, jump outs and jump ins, drops off different elements.
SmartPower [A] [B]
Combos and transitions with signature strength and flexibility moves, step by step techniques of execution from easy to difficult, signature static and spinning pole elements
ExperimentalChoreo and body control [C]
The title says it all. This is an all level workshop bringing Dimitry's style of movement to pole dance. It's not really a dance class, but shows how Dance would be if Dimitry could define the rules ...
more workshops to be added ...
-tbd-
Sasja Fierce Lee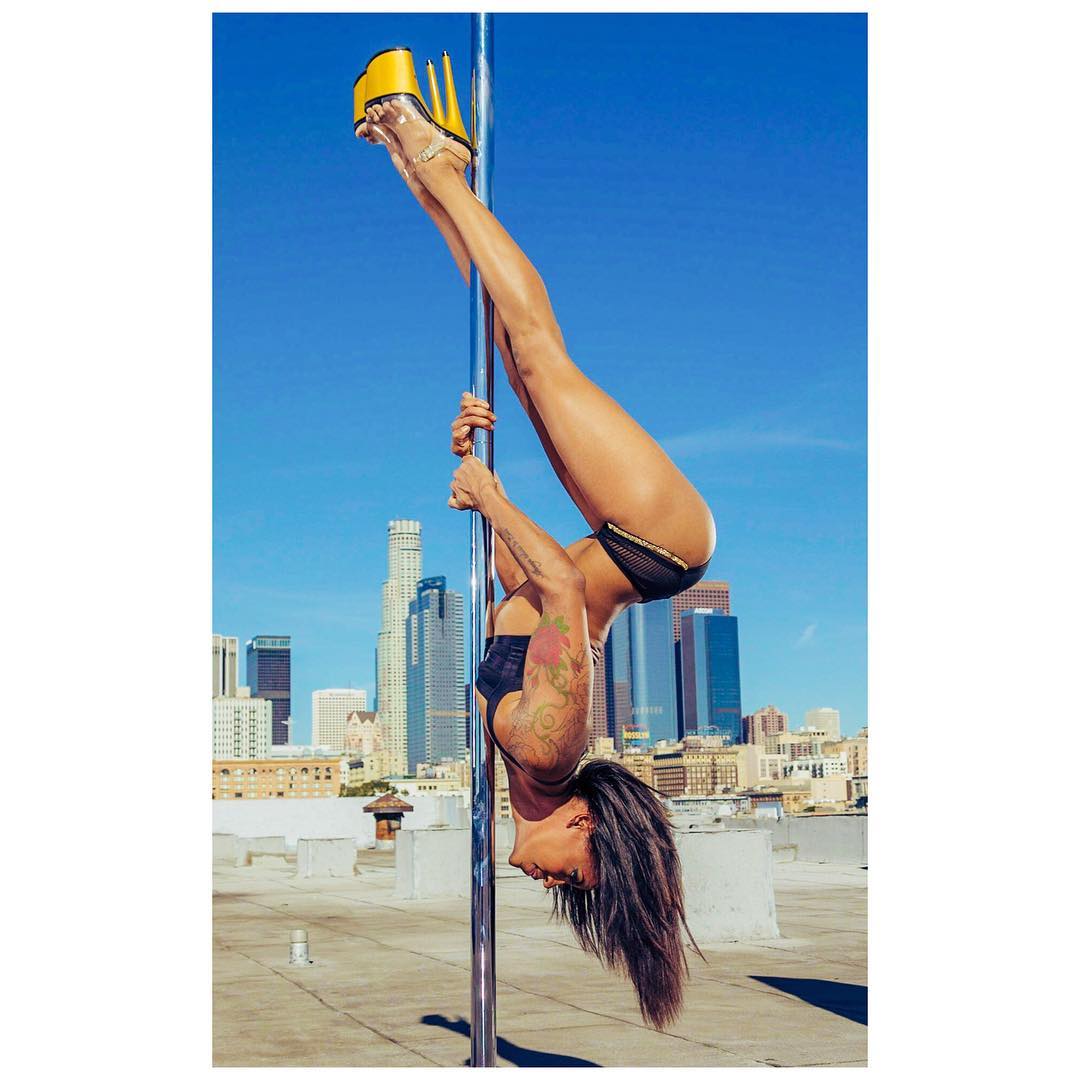 Sasja Lee calls herself Sasja Fierce on some occasions. So she is Sasja «Fierce» Lee. She's the first instructor from the US teaching in one of our Thailand Pole Camps. She lives and teaches in Los Angeles. As she's not travelling that much, she's not easy to catch as an instructor. But it may have been fate that her first journey to Europe ever, brought her to Mystique Pole Dance in Switzerland in the year 2015. Now we bring her also the first time to Asia and we do this, as we know that she's worth it.
Sasja won championships in the US some time back. The reason that we got interested though, was her way of doing pole dance. She can do crazy things and she can dance. All this makes her a multi-faceted pole dancer that can widen your horizon. Even though the other 3 instructors are the best of their kind, the picture is not complete without a hidden gem like Sasja. She teaches fun workshops and will leave you with a smile. Besides being a good teacher, she's also very nice person. You certainly won't be disappointed.
Sasja Lee Workshops
Static Revolution [A] [B]
Want to fly like Sasja Fierce? Spinning on static has become a lost art. This workshop will concentrate on learning how to use your grip to the advantage of your spin, creating flow and beautiful spins on static in order to move effortlessly, laterally and vertically on the pole.
Synthesis [B]
Learn how to combine tricks, spins and floor work on static pole. Build combinations and seamless transitions by listening to your body and pulling from your repertoire in order to create your very own "fierce" routine.
Power Architecture II [A]
Raise the bar! Unearth the technique that allows you to defy gravity with confidence. This workshop primes you for aerial cartwheels, flips, grip switches, hand balancing, Kamikaze and overall dynamic movement.
Under The Lights [C]
This workshop, designed for newcomers to the stage, yearning to showcase or compete, focuses on connecting with your "why" for stepping foot under the lights, character development, stage presence and building a well-rounded routine. Students will learn how to tap into their inner "Fierce".
Heel Your Soul (with heels) [C]
Thread and weave your way through this sensual maze of movement in this choreographed class, while navigating through lateral flow and funky floor work. Walk in reserved, crawl out fierce.
Daria Che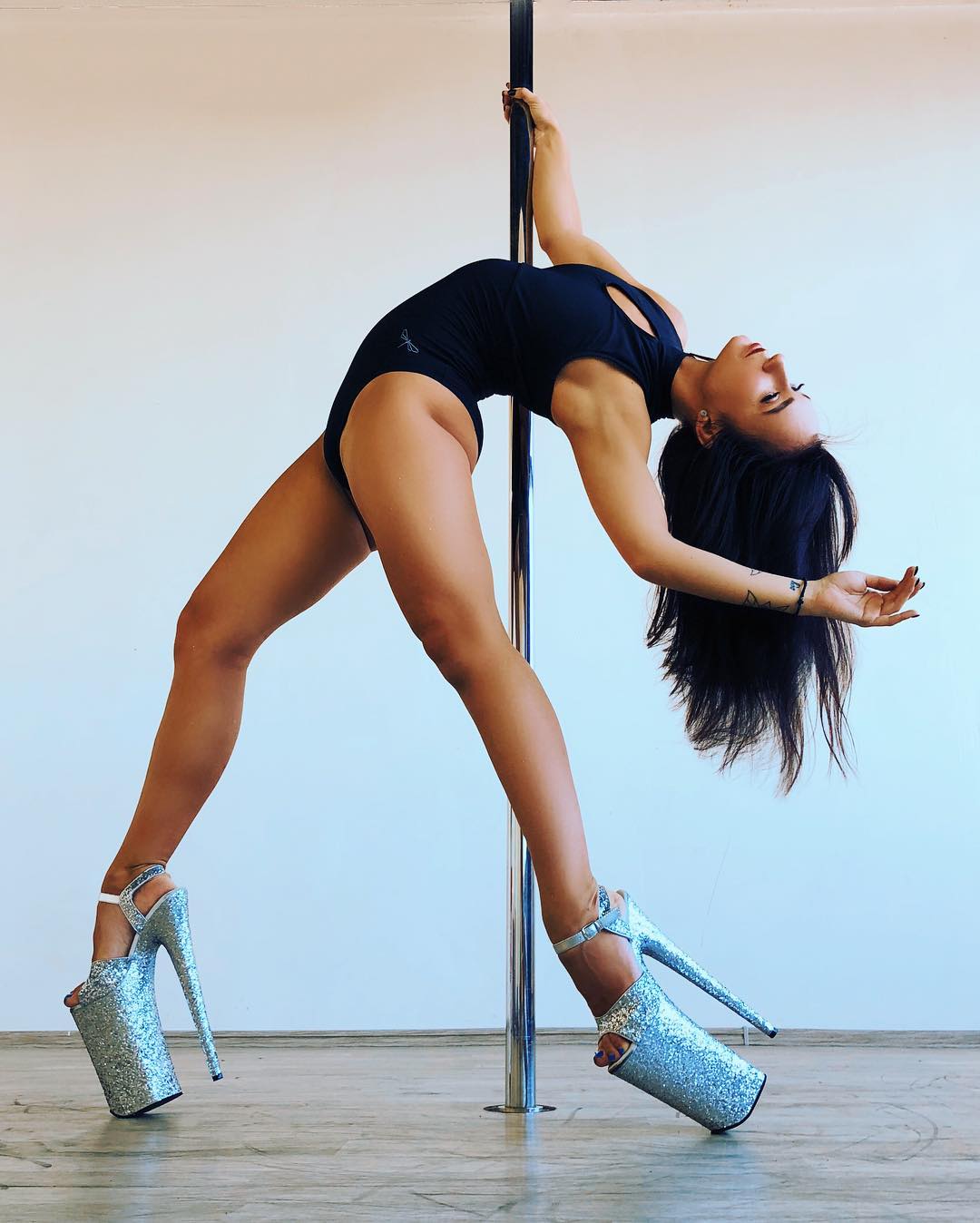 Daria Che or with her full name Daria Chebotova is called sometimes the queen of Exotic Pole. Exotic Pole was present in Russia before the term was used in other countries. As there were similar styles in the US and Australia, now the term "Russian Exotic" is sometimes used, to make a difference. Russian Exotic has style, a great flow and is not cheap at all, whereas the styles coming originally from the US and Australia set the term "sexy" to the focus. We prefer Russian Exotic and really like it, so we give it a space in our third run of the Mystique Pole Camp Thailand.
For this, who is better suited than Daria Che? She is based in St. Petersburg. There she studied Rhythmic Gymnastics but had to stop due to an injury. When Exotic Pole started to get known in Western Europe, there were names like Eva Bembo or Olga Koda. Soon after, it was Daria Che, and she was there to stay. Her style is still fresh and even with there being many good Exotic pole dancers around, she is still the first dancer coming to mind when talking about Exotic Pole.
Daria Che taught workshops at Mystique Pole Dance in Switzerland in 2016. Besides her teaching very nice workshops, we also found her a very sympathetic person. This is the perfect mix for a pole camp.
Daria Che Workshops
Exotic Floorwork [A] [B]
You learn an exotic pole combo on the floor. It includes elements such as shoulder stands, transitions in flow style, handstands and balancing tricks. If you are a more advanced pole dancer, this is the perfect workshop for you.
Smooth Flow Choreo [C]
You learn an exotic pole combo in slow tempo, so this is the perfect workshop if you are new to exotic pole. Learn all the basic elements of exotic pole dance: spins, tricks, floor work and body waves. And besides this, we will work on fluid transitions from one element to another.
Power Leg Work [A] [C]
You learn an exotic pole combo which is more intensive then the beginner choreography with medium temp. It includes legwork, advanced elements such as amplitude spins and tricks, transitions, floor work, handstands and balancing tricks. If you are a more advanced pole dancer, this is the perfect workshop for you.
Exotic Intensive Choreo [B] [C]
You learn an author's exotic pole combo in high temp. It includes some intermediate pole handstands and tricks, amplitude spins and floorwork and dynamic transitions. For those who know all basic rules of exotic pole and want to improve your skills.